Internal Medicine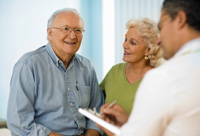 Internal Medicine at Hudson Valley Health Group encompasses comprehensive medical and preventive care for a wide range of conditions affecting our adult patients. Patients are seen on a regular basis for ongoing wellness care and to reduce the risk of cardiovascular disease, cancer and other serious conditions. Our doctors strive to develop a trusting, long-term relationship with patients as part of our mission to always deliver the highest quality of care.
Preventative medicine is a key component of our all-inclusive approach to good health. We will guide you through the complex cancer screening process, educating you on age-appropriate testing to maximize early detection and diagnose the presence of any disease before it has progressed.
We aim to provide prompt and effective care for patients with acute medical concerns so that they can return to optimal health and resume their regular activities. In most cases, we can offer same-day or next-day care. Patients see our general medicine doctors as a first line of defense for their medical needs, and may be referred to a specialist within one of our other departments if necessary.