Podiatry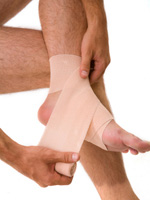 Our podiatry department specializes in diagnosing and treating all disorders and conditions of the feet. Feet problems can affect people of all ages, but are most common in older people, diabetics and athletes. Podiatrists provide medical and surgical treatment of foot conditions that are caused by injury, disease or genetics. Each foot contains 26 bones, 33 joints and 100s of ligaments, muscles and tendons that are all under frequent pressure from daily activities. This puts the foot at high risk for injury and other damage. 75 percent of Americans will experience foot problems at some point in their lives.
Because the foot is such an important part of our daily lives, it often requires specialized care from a podiatrist. Foot problems can affect the bones, joints, muscles or skin of the area, all of which are highly susceptible to damage.
Common foot conditions that we treat include:
Athlete's foot
Blisters
Bunions
Corns and calluses
Foot odor
Hammertoe
Heel pain

Heel spurs
Infections
Ingrown nails
Neuromas
Sports injuries
Warts
Podiatry also covers treatment of foot and ankle trauma, sports medicine, overuse injuries, infection and diabetic foot care.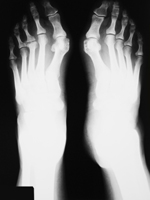 At HVHG, we specialize in preventing, diagnosing and treating foot conditions. We can examine your foot problems with state-of-the-art X-ray, CT and MRI imaging devices. Our treatment options range from splints and braces to advanced surgical procedures. Our doctors are specially trained in providing effective treatment with long-lasting results and quick recovery. The best treatment for you depends on your condition and medical health. We will work with you to determine which method is right.
Some of the services we provide include:
Pediatric foot care
Diabetic foot care
Joint replacement
Preventive foot care

Custom orthotics
Physical therapy
Foot surgery
Reducing the risk of foot disorders can be done by simply following basic foot care. It is important to keep feet clean and dry, keep toenails trimmed and wear shoes that fit properly. Walking barefoot should be avoided as it makes your feet more prone to injury and infection. Eating a balanced diet with adequate amounts of calcium and vitamin D will help keep the bones in the feet healthy.
If you experience regular foot pain or discomfort, it is important to see a specialist. Untreated foot disorders can worsen over time, or may be the first sign of a systemic disease. People at high risk for foot problems, such as those with diabetes, should see a podiatrist on a yearly basis.
To learn more about
podiatry
, please call
845-565-9800
today to schedule a consultation or try our online
contact form.